The enactment of Liberia's Land Rights Law in 2018 opened doors to a new era of reform in the country's community land rights. The law came into force after a long history of land dispossession for Indigenous and local communities and two brutal civil wars, whose main drivers are traced back to power struggles for land and natural resources. Land reform and justice have always been critical pillars of sustainable peace in Liberia, and this legislation sought to play a key role in this endeavor.  
To date, the law is one of the most progressive land rights laws in Africa and the first legislation to recognize customary ownership of land in Liberia. It also explicitly secures the rights of women to own land and to participate in decision-making processes concerning land governance.  
However, despite the wins this legislative victory has brought to Liberia's rural communities, gaps remain in educating local populations – including both men and women – on its use so that its full implementation becomes a reality. 
Assessing the law's impact on community women
While agriculture and forestry occupy important places in Liberia's economy, women's access and control of land have historically been limited despite their making up the majority of agricultural workers and forestry laborers in Liberia. It is in this context that RRI collaborator, the Social Entrepreneurs for Sustainable Development (SESDev) began to critically examine how the new legal framework in the country has impacted women's land rights and livelihoods.  
With the support of RRI, SESDev assessed the changes that have occurred to improve livelihood opportunities for women in Vahun District, Lofa County in northern Liberia since the law was enacted in 2018. Through data collected from 17 focus groups (11 with women and six with men) and 13 key informant interviews, this assessment highlighted the key role customary leaders had played in ensuring that women's land rights, as enshrined in statutory laws, were fully realized, protected and enjoyed by women. It also assessed the role these rights were playing in improving community women's livelihood opportunities.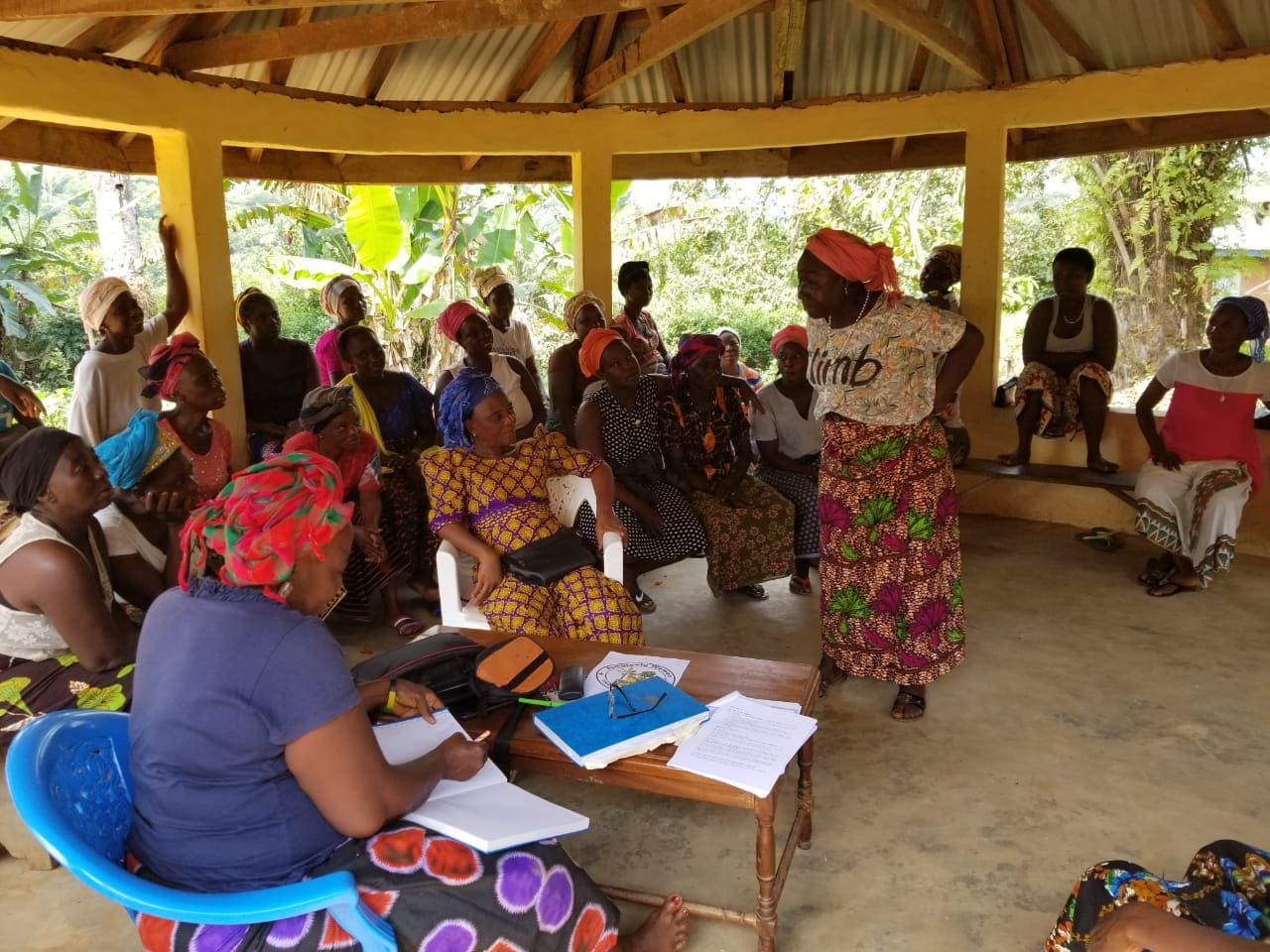 Customary leaders as agents of change
In Vahun District, customary leaders have emerged as key figures for women's economic empowerment, by offering them sections of customary land for them to cultivate cash crops like cocoa, palm, coffee, and banana, once the sole domain of men. In the past, the chiefs would never offer land to women in the community unless they presented approval from their husbands. This practice is now changing, resulting in improved income and new livelihood opportunities for women.  
While it takes a long time for cultural norms to truly shift, the example from Vahun District is a significant step forward toward the pursuit of land justice and women's rights. According to Joseph,* a local leader in the district:  
Holding onto our traditions has not augured well for us as chiefs and elders. Because of the education on land rights, we have tried to provide space to give women the rights to land. Men used to discuss land matters in the bush, making the women afraid by bringing the country devil outside to create fear because that was how our forefathers used to treat women.[1] But today, the story has changed because of the (new) law so that women and men have equal rights to land.
Increased awareness about the provisions of the Land Rights Law on women's land rights has in some cases even influenced the beliefs held by male family members. According to Adama Dunor, a community member who participated in the women's focus groups: 
We as children inherited land from our father. I decided to start developing part of the land by planting cocoa. Every year when my husband makes the farm, we plant cocoa after harvesting the rice. When my older brother saw that our farm was getting big and being very productive, he wanted to remove me from the land. One day, our community animators (mobilizers) had gone to the community to talk about women's land rights and he was in that meeting. When he read out the law to us, my brother understood that I too have rights to the land and today he has given me more support and has encouraged me to do more. Now I can even plant palm.
The community mobilizers referred to by Dunor are members selected from the community to help ensure meetings are well-publicized and represented by women, youth and elders. 
SESDev's assessment revealed that more and more women are becoming involved in land governance. For example, one woman defied cultural norms and systemic biases to now sit as co-chair of her community's Community Land Management Committee. 
Inheritance norms remain a challenge for women
Despite these positive transformations, women's access to land remains a challenge under inheritance frameworks. It is important to note that cultural and customary belief systems are deep-rooted and there is often pushback against progressive laws in Liberia as well as other parts of Africa. One community woman, Julia*, shared her experience with inheritance laws: 
The inheritance of land is something of major concern to me as a daughter. Daughters are not inheriting their land from their fathers as the sons do. My father narrated to me that according to our Muslim tradition, a woman is supposed to get a share of her father's property when she reaches the age of marriage. But what he told me is not what is happening.
Another community member, Hawa Vandi, said:  
My father has denied me rights to plant cocoa on his land on the grounds that women are property and as such cannot own property. After we till the soil, plant food crops, we harvest and sell them, our husbands can demand we give them the money because women do not have rights to the land.
Even though Liberia's Equal Rights of the Customary Marriage Law of 1998—also known as the "Inheritance Law"—provides a layer of security to women after the death of a spouse or a divorce, it has been poorly applied since its adoption in 2003. In fact, most people in rural areas, both men and women, are unaware of its existence.  
Phase II of SESDev's project will focus on raising awareness of the Inheritance Law among community members and customary leaders in Vahun District. They hope that this intervention will enhance awareness of this law and garner support from traditional authorities to continue to advance women's land rights. SESDev also plans to support women's cooperatives to strengthen their governance structures and ensure that their income-generating activities are diversified.